INTERNATIONAL
SHOWBIZ
Turkish influencer prosecuted 'for photos at Amsterdam sex museum'
A Turkish social media influencer says she's being prosecuted in her country for posting "joke" photos inside the world-famous Sex Museum in Amsterdam.
A Turkish social media influencer says she's being prosecuted in her country for posting "joke" photos inside the world-famous Sex Museum in Amsterdam.
Merve Taskin, 23, shared pictures of sex toys she bought at the museum during a birthday trip to the Netherlands in January last year.
A few months later she says she was arrested in Turkey, where sharing obscene content is considered a crime.
Now she says she has been summoned to court to face obscenity charges.
Under Turkish law, any person who publishes obscene material can be fined or sentenced to jail for up to three years.
"My purpose was to make jokes," Ms Taskin, a prominent Instagram personality in Turkey with almost 600,000 followers, told the BBC.
The Turkish embassy in London did not immediately respond to a request for comment. Calls went unanswered.
Ms Taskin, who lives in Istanbul, said she visited Amsterdam with two friends to celebrate her 22nd birthday.
One item on their to-do list was the Sex Museum, which attracts tourists from across the world.
Inside, Ms Taskin took to Instagram to share photos of merchandise on sale, including penis-shaped pasta and a "sexy bottle opener".
View this post on Instagram
To Ms Taskin, the pictures seemed innocent enough, but back in Turkey, authorities took a different view.
She says she was arrested twice in the months following her return, once during a summer holiday. On the second occasion, she said she started a prosecutor.
This, Ms Taskin believed, would be the end of the matter. But earlier this year, she was surprised to receive a text message summoning her to court in Istanbul.
The BBC has seen a screenshot of a text message, which says Ms Taskin is expected to appear in court on 26 October for violating Article 226 of Turkey's penal code.
Article 226 refers to a range of crimes relating to obscene material that is deemed offensive.
Since receiving the court summons, Ms Taskin says she has deleted many tweets "so they wouldn't complain again".
Ms Taskin said she was afraid to testify in court but will do so willingly. She tweeted about the court summons last week, leading to widespread coverage of her case in the Netherlands.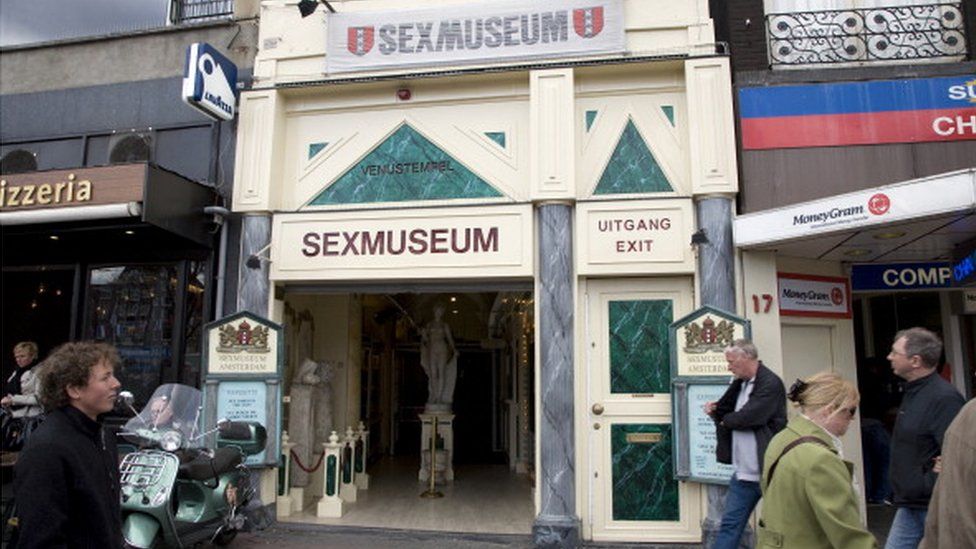 The director of the Sex Museum, Monique van Marle, told the BBC she found this situation "absolutely ridiculous".
She said the museum had messaged Ms Taskin to say it was "sorry to hear about the trouble you are in", calling her a "great role model to other women".
"Our museum is intended to educate people all around the world about the history of sex. We admire you for expressing yourself and posting such pictures," the message read.
Websites, publishers and government critics have been censored and prosecuted for obscenity under Turkish law.
Human rights groups say freedom of expression online has been in decline under the government of Turkish President Recep Tayyip Erdogan.
His critics call him an autocratic leader intolerant of dissent, who harshly silences anyone who opposes him and his conservative, Islamic values.
Freedom House says Turkey "remains one of most challenging places in the European region to exercise one's right to free speech and expression". Journalists, activists and opposition figures face "widespread persecution for criticising the government", Freedom House says.
Last year, censorship of social media tightened, after Turkey's parliament passed a law to control platforms.
Source: BBC